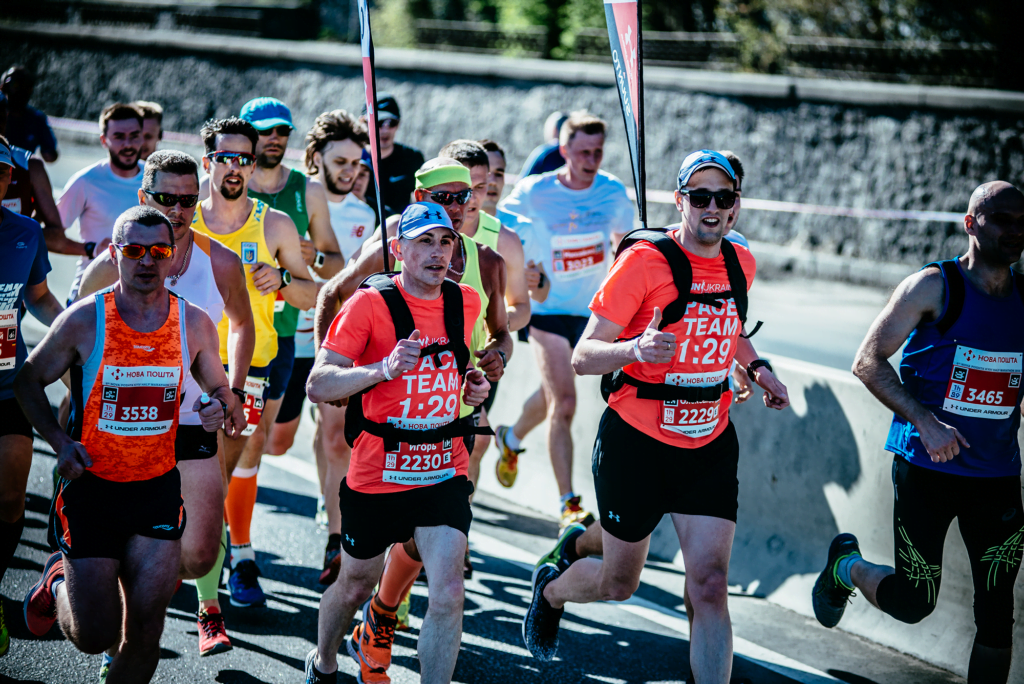 A half marathon is a good way to test your race readiness. About four thousand runners from beginners to professionals will be running this course at the 4th Tavria V Odesa Half Marathon.
A pacemaker is an experienced runner that follows the course along with all participants of the race, but his/her main task is to set an optimal pace of running – the rhythm, which would guarantee that participants reach the finish in due time.
Meet our team of pacemakers:
1:29 Pacemakers
Volodymyr Horban

Club: Run Base Kyiv

Word to the participants:

Wishing you fast feet and incredible victories!

Oleksandr Turui

Club: KM Running Club

Word to the participants:

Never be lazy and you'll be able to achieve anything!
1:39 Pacemakers
Oleksandr Viktorov

Club: ARC "Bila Tserkva Marathon"

Word to the participants:

Enjoy the run, achieve great results and new victories over yourself!

Dmytro Lishchuk

Club: ARC "Bila Tserkva Marathon"

Word to the participants:

Believe in yourself and your abilities. You can do more than you think! Enjoy the race! Wishing you victories over yourself and new records!
1:49 Pacemakers
Leonid Tymchenko

Club: RunBaseKyiv

Word to the participants:

Enjoy participation in this competition!

Oleksandra Azarova

Club: Run Base Kyiv

Word to the participants:
May finishing this half marathon course become a sparkling jewel in the crown of your life achievements.
1:59 Pacemakers
Vitalii Kovalenko

Club: Start Dnipro

Word to the participants:

Only serious trainings can bring a positive result, Practice and you will be happy!

Vitalii Nikolaiev

Club: Run Base Kyiv

Word to the participants:
Run for pleasure, enjoy every step.
2:09 Pacemakers
Vladyslav Puhach

Club: Team 165

Word to the participants:

You have to live through many things, And every finish is a new start, Do not try to predict the future, And do not mourn the past.

Valeriia Kharchyk

Club: KuzinTeam

Word to the participants:
May the race give you more than you expect.
2:19 Pacemakers
Viktoriia Romanchenko

Club: Sparta Runners Club

Word to the participants:

I wish you to thirst for life and to wish to turn your love for sports into a lifestyle!

Oleksandr Zhuchenko

Club: SSYC No.1, Kharkiv

Word to the participants:
Wishing all the participants of the Running League to love sports, run and enjoy running. Set a goal at every stage of the Running League and persevere to achieve it.
Tips on how to choose your "pacemaker"::
Don't make a mistake setting your pace
The job of a pacemaker is simple: to keep a regular pace throughout the race. However, it is up to runners to properly assess their potential. "Don't make a mistake with your pace" repeats Dominique Chauvelier, the bronze medallist in the 1990 European Championship. You should consult your trainer on your physical abilities before the race.
Before the start
Kyiv half marathon will traditionally have two pacemakers for each pace. Pacemakers will accompany participants for 1:29, 1:39, 1:49, 1:59, 2:09 and 2:19 hours. They will be easily identified in the starting blocks by the banners with finishing time behind their backs. "When you get into the starting blocks, move straight towards them," advises French marathon icon Dominique Chauvelier. "Don't panic. You don't need to stick to them like glue: they are not going to fly off!"
Hitting the right pace
After the start, you need to immediately find the pacemaker and keep him/her constantly in sight, staying about 20-30 meters behind them. Be careful not to fall behind: catching up always requires additional energy which could be damaging later on. Check that the pace over the first few kilometres is what you had planned to follow. Then, just follow the pacemaker, concentrate on the refreshments and enjoy the run.
When it's going too fast…
It is possible that almost immediately after the start you realize that the pace is too fast for you. "Don't waste any time", warns Dominique Chauvelier, four times French marathon champion. If you start falling behind, you should slow down and gradually settle into a pace that suits you better. It is better to finish the race on your own or alongside other runners than trying to follow a pacemaker. Chauchau jokingly adds: "Don't wait for quarter of an hour on the edge of the road for another pacemaker to come along!"
If it is (really) too easy
Sometimes your legs are in better shape than you thought and the pace of a pacemaker seems a little sluggish. Should you accelerate? "Yes, you can do it', admits Dominique Chauvelier. "But be careful not to do it too early in the race." After all, pacemakers are the ideal metronomes. They can often provide valuable lessons in managing effort to less experienced runners. The best advice is generally to follow their rhythm.